Aggressive treatment in darker skin types can cause more hyperpigmentation
Dr. Jaggi Rao discusses how to assess baseline pigmentation in order to properly consult patients on hyperpigmentation (885 words, 3 minutes)
■ Dr. Rao will speak during the Skin Spectrum Summit 2020 virtual conference (Oct. 1-6.) This Group Learning program has been certified by the College of Family Physicians of Canada and the Ontario Chapter for up to 4.75 Mainpro+ credits.
For patients with skin of colour, assessing baseline pigmentation is one important aspect of conducting a proper hyperpigmentation consultation, according to Dr. Jaggi Rao. When dealing with patients suffering from hyperpigmentation, Dr. Rao recommends that practitioners start by looking at why the skin is hyperpigmented. He discussed the consultation process and treatment options for patients with hyperpigmentation during his presentation at Skin Spectrum Summit 2019 in Vancouver.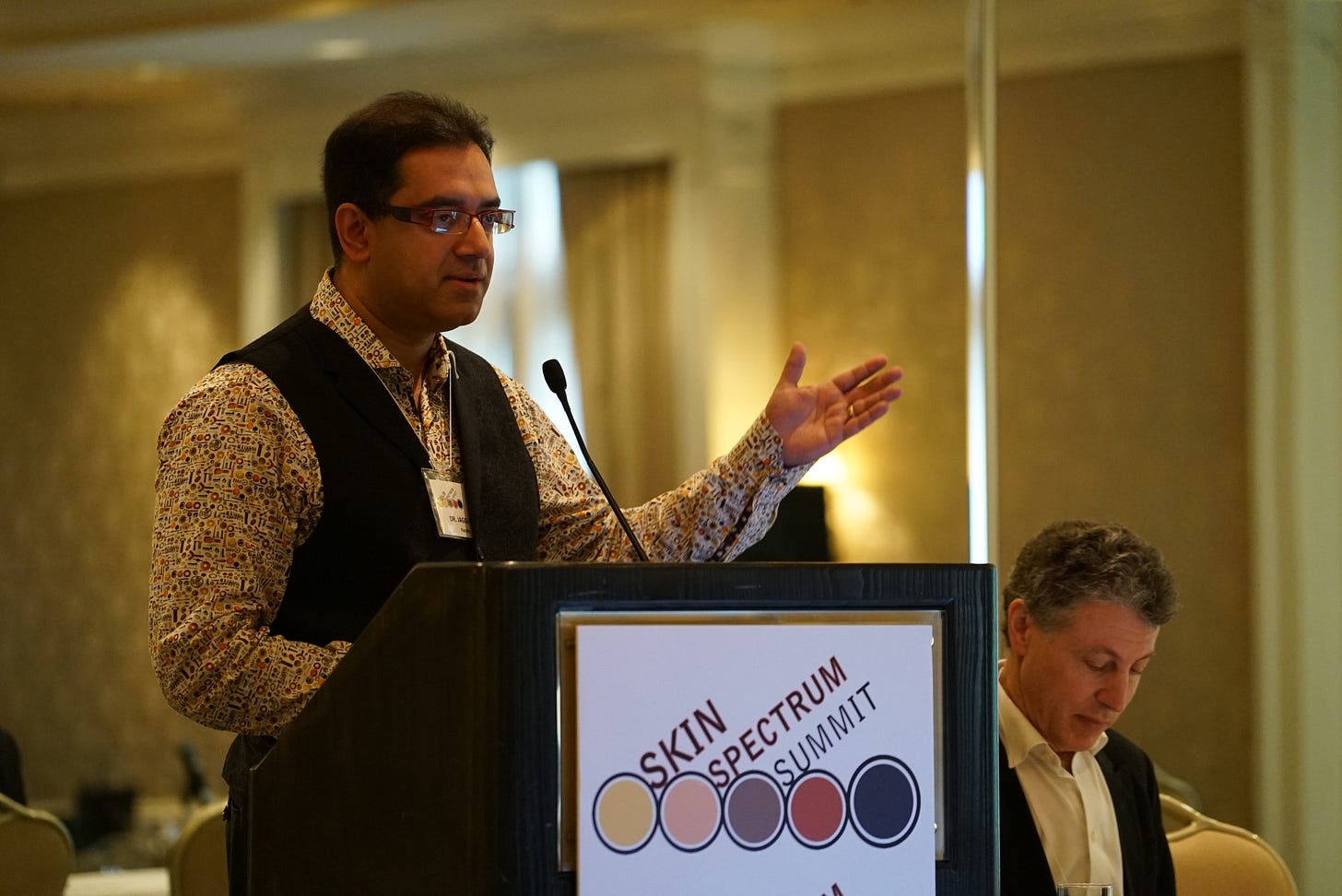 There are two different categories of hyperpigmentation: melanotic or melanocytotic, according to Dr. Rao. Melanotic hyperpigmented conditions have too many melanosomes compared to the baseline, whereas melanocytotic hyperpigmentation occurs when there are excess melanocytes.
Melanotic conditions include freckles, melasma, and facultative pigmentation. Melanocytotic symptoms include different types of moles, nevus of Ota and Ito, blue nevus, and lentigines.
Using the Fitzpatrick skin phototype, Dr. Rao suggests that doctors begin with the consultation process by assessing the patient's baseline pigment, the level of pigmentation without the disorder.
"This is reflective of the constitutive epidermal pigmentation that a person would have," Dr. Rao explained.
"People who have darker skin types ... have more labile melanocytes, and if you are too aggressive with the treatment, you can cause more pigmentation or post-inflammatory hyperpigmentation. Typically, this will happen for Fitzpatrick skin type III to VI."
To achieve synergy in treatment, Dr. Rao suggests a multi-product approach to effectively treat hyperpigmented skin.
"If you can go ahead and both prevent further pigment gain and promote loss and do it on multiple levels, then we will be able to have better and safer therapy, Dr. Rao said.
Multi-layer therapy is another treatment option for hyperpigmentation Dr. Rao discussed.
Utilizing enzyme inhibitors of the melanin pathway as well as melanin transfer, exfoliants and antioxidants can treat the pigments that are excess not only in the epidermis but also in the dermis.
"We now know that infrared radiation can also cause free-radical accumulation, and that might contribute to damage," said Dr. Rao
Although Dr. Rao focused his presentation on topical agents for the treatment of hyperpigmentation, he acknowledged that different types of sunscreens as well as multimodality therapy can be used to treat the disorder.
"You can use a lot of this with other modalities, such as laser therapies, peels and so forth, as long as you know how to do it properly, you're well trained and you have that comfort level," suggested Dr. Rao.
Dr. Rao's presentation was supported through an unrestricted educational grant from Vivier Pharma.
The takeaway: Patients with darker skin types have more labile melanocytes, which means aggressive treatment may cause more hyperpigmentation.
FROM THE LITERATURE ON HYPERPIGMENTATION
Prevalence of pigmentary disorders: A cross-sectional study in public hospitals in Durban, South Africa
A study by researchers in Durban, South Africa looked at the most common subtypes of pigmentary disorders in African women. In the study of 304 patients, researchers found that vitiligo, postinflammatory hyperpigmentation, and melasma were the three most common pigmentary disorders.
Postinflammatory hypopigmentation: a comprehensive review of treatments
A recent study provided a comprehensive analysis of postinflammatory hypopigmentation, including pathogenesis, diagnostic methods, and new treatment options. Researchers noted that though hyperpigmentation occurs in all Fitzpatrick skin types, it is visually more obvious in patients with skin of colour.
The role of sunscreen in melasma and postinflammatory hyperpigmentation
For patients with skin of colour, using sunscreen that protects against UVA, UVB, and visible light may help to stabilize or improve hyperpigmentation and other pigmentary disorders, according to a recent study. Researchers noted that patients with skin of colour are likely not using sunscreens at as high a rate as patients with lighter skin tones.
---
Skin Spectrum Summit 2020 will be held in three sessions: Thursday, October 1 at 7:30 pm, Saturday, October 3 at 10:30 am, and Tuesday, October 6 at 7:30 pm. Please register here.
On Day 2 of Skin Spectrum Summit, Dr. Jaggi Rao will present on the subject of differential diagnosis in atopic dermatitis. If there are any questions you'd like to ask Dr. Rao, please submit them here:
---
AT THE INTERSECTION OF SKIN & SOCIETY
A New Brunswick doctor who tested positive for Covid-19 was publicly rebuked and blamed for an outbreak by New Brunswick Premier Blaine Higgs after failing to self-isolate following a trip to Montreal, according to a report by CBC. However, after an investigation, the CBC found that the doctor, Dr. Jean Robert Ngola (pictured below), likely did not contract the virus on that trip.

In response, a group of Canadian doctors wrote a letter to Dr. Ngola expressing their dismay over his public shaming, attributing it in part to racism. In the letter, signed by 1,500 Canadian doctors, they wrote: "All of us signed below have felt tremendous anger, discomfort, and frustration with the backlash that followed once you were publicly identified. What unravelled thereafter was unjust, unkind, and dehumanizing.… We strongly believe that systemic racism coupled with the stigma surrounding individuals infected with the COVID-19 virus has significantly contributed to the crucifixion of your character within the public eye." Read the full story here.
NEWS
Dr. Mireille Norris (pictured below) has accepted a three-year appointment as Faculty Lead — Black and Indigenous Resident Application and Mentorship Program in the department of medicine at the University of Toronto, according to a press release from the University. The role is focused on ensuring mentorship for Black and Indigenous students, according to the release. Dr. Mireille Norris is an assistant professor in the Department of Medicine and an internist and geriatrician at Sunnybrook Health Sciences Centre. Read the full appointment notice here.
THIS WEEK
Something to think about during the week ahead…
NEXT WEEK
An interview with Dr. Pearl Grimes on her study of iron-oxide for protection against visible-light-induced pigmentation in patients with skin of colour. Subscribe to Skin Spectrum Weekly and have each issue sent directly to your phone or inbox.
Don't forget to register now for the Skin Spectrum Summit 2020 Webinar Series, beginning October 1, 2020. Sign up here.
You are receiving this newsletter because you are a subscriber to The Chronicle of Skin & Allergy or other Chronicle journal, or have attended a Skin Spectrum Summit live event or webinar, or have previously requested a subscription to one of our newsletters. If you no longer wish to subscribe to this newsletter, please send an email with the subject line "Unsubscribe Skin Spectrum Weekly" to health@chronicle.org
Skin Spectrum Weekly is published by Chronicle Companies, 701 Ellicott Street, Buffalo, NY 14203. Canada: 555 Burnhamthorpe Road Suite 306, Toronto, Ont. M9C 2Y3
Mitchell Shannon, Publisher; R. Allan Ryan, Editorial Director; Cory Perla, Managing Editor; John Evans, Dhiren Mahiban, Kylie Rebernik, Jeremy Visser, Editors; Nick Antoniadis, Business Development; Catherine Dusome, Operations Manager, Peggy Ahearn, Consultant
Content is copyright (c) 2020, Chronicle LifeSci America Corp, except as indicated. Interested in contributing to this newsletter or in learning more about Chronicle's services? Write to us at info@skinspectrum.us